Going to have to break out my matching track suit for these.
Back in July, when the skies were blue and people exposed the lower half of their arms, I journeyed over to Berlin to play the inaugural Midi Fight Club at the legendary Tresor.  The event, thrown by the good folks over at DJ Tech Tools, was very enjoyable.  So, I thought I'd share some of my favorite moments from this experience.  (For an even more thorough account of this event, please see the post on DJ Tech Tools, which features hard hitting journalism and a variety of perspectives HERE.)
-My hotel was very cheeky.  Every item in it had a cheeky expression.  When I asked for coffee in the presence of a coffee machine, the bartender had a cheeky response for me.
-After I arrived, I jetted over (not literally, I took the train) to Fritz Radio with Ali/Hedgehog and his girlfriend Anne.   On the way over, I learned how to say in German "I am the master" ("Ich bin der meister").  This phrase actually became one of the focuses of my interview at Fritz.  In addition to discussing Meisters with the enthusiastic host, I spoke about my setup, the upcoming event at Tresor, and things I didn't understand because he sometimes spoke in German.  I then dropped a little set, which you can see here: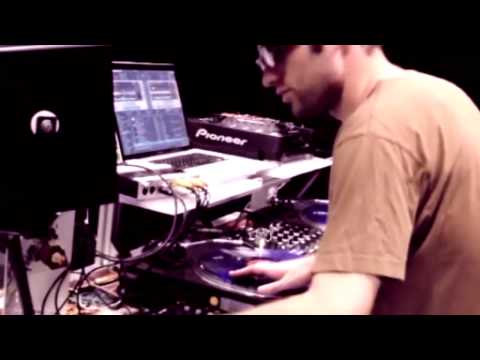 -Upon returning to my hotel, I decided to venture out for some food before napping.  In typical American style, I asked the concierge for directions to the nearest cheeseburger.  I don't what it is, I don't eat fast food at home, but every time I go overseas, I crave Big Macs.  In any case, I wandered the streets of Berlin searching for this burger, only to run into my good buddy Michael from Native Instruments eating at a Vietnamese place.  Of all the gin joints in all the world . . . Patriotism aside, I joined him for a delightful beef noodle bowl.
-My slot for the party was 4am-6am, which I was told was primetime.  Holy moly!  Before heading over to the club, I grabbed a drink with my good buddy Terry from NI (NI is filled with good buddies, which is one of the reasons they are great to work with.  That and the hope that one day they will make an actual tractor are what keep me coming back).
-When I got to the club, Strip Steve (Boys Noize Records) was rocking a banging set, all while smoking a cigarette.  What a multi-tasker!  The crowd was loving the build-ups and the hard-hitting, yet funky, techno sounds.  I knew from watching his set that I had to come in upbeat and dance-y (i.e. save the dubstep!).
-My set was super fun!  The crowd was very into it, and let me veer off into different directions.  I opened with Drop The Lime's Sex Sax and moved into the Zombies for Money remix, while still chopping up the original a little bit.  But don't just let me tell you about it!  Here's some video from the event (I'm at 6:10) and the full audio of my set.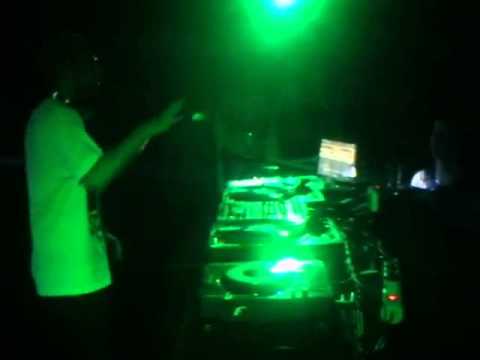 -During the set, I had a couple highlights in and of themselves. First, I tried early in my set to go into some dubstep and more bass bass bass kind of sounds, but the crowd wasn't quite having it, so I jumped back to electro. However, I managed to catch them by surprise towards the end of my set by dropping THIS into THIS, and then the dubstep was on!
Second, I had one of those great moments when you DJ where you play a song you love, everyone in the club loves it too, you feel totally connected to all the people, and you think "wow, this is what it's all about." For me, this moment came during Sub Focus' "Could This Be Real" right around HERE.
-After my set, I realized I had DJed the whole time with my fly unzipped! No wonder why I felt so free up there!
-Hedgehog got on the set after me and dropped a lot of heavy bangers that I was really feeling. I especially dug some tracks he played from Rubix, someone of whom I previously had no idea.
-After Hedgehog were Muller and Graf, who dropped a set close to my heart – monstrous dubstep bangers! My favorite moment was actually captured on video HERE. The boys dropped a giant tune and then Muller went totally ape shit. It's a beautiful thing to watch!
-At about this time, I looked at my watch and it said "Breakfast." So, I knew I had to get a quick bite to eat. I ducked out with with Hedgehog & Honestly Who, ate a tuna sandwich, discussed issues facing the modern DJ, and helped other random patrons of the eatery practice their English.
-When we returned to the club accompanied by a local crazy person, it was 9am. Surely the night was over. Nope! Restricted Sessions, a bunch of fine gentleman from the Netherlands whom I had met earlier in the night as they scrambled for a missing hotel room, were rocking. At 9am!!! The floor was still active and these fellas were having the times of their lives. I thoroughly enjoyed their set too, which is impressive because they don't really play my type of music. The sign of a good DJ – making you enjoy stuff you aren't really into!
-The night finally ended. It must have been 10 or 11am. I taxi-ed it back to the hotel, grabbed some cheeky breakfast, and then checked out on to my next location – a different, less cheeky, hotel down the road. Why? I was staying in town to make a video with my good buddies at Native Instruments. It turned out pretty well I think!